Methodist Reading Club – Robert Ellsberg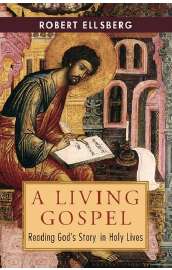 Author: Robert Ellsberg
Novel: The Living Gospel
Every Thursday February 10 – April 7, 10:00 a.m.
In his latest book, Robert Ellsberg, the author of many acclaimed works on the saints, looks on the "living gospel" that is written in human lives. From biographical reflections on traditional saints and spiritual masters (including Dorothy Day, Henri Nouwen, Thomas Merton, Flannery O'Connor, and
Oscar Romero), he reflects on what it means to read the spiritual text that is written in such lives. From that, we learn to read our own lives in the same light.
Pastor Peter will be leading a 9-week discussion of this book (in person and by Zoom) on Thursday mornings at 10am, beginning February 3. If you are interested in joining us to read and discuss this book (a 2021 UMW Reading Program selection) please see the sign-up sheet in the Lobby or email Peter.
Copies of the book will be available for $22, or you can download the book to your e-reader.