Methodist Reading Club – Harold Ivan Smith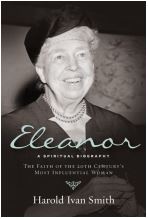 Author: Harold Ivan Smith
Book: Eleanor, A Spiritual Biography
Every Thursday July 21 – August 18, 10:00 a.m.
More than fifty years after her death, Eleanor Roosevelt is remembered as
a formidable first lady and tireless social activist. Often overlooked, however, is
her deep and inclusive spirituality. Her personal faith was shaped by reading the
New Testament in her youth, giving her a Jesus-centered spirituality that fueled
her commitment to civil rights, women's rights, and the rights of all "little people"
marginalized in American society.
Pastor Peter will be leading a 5-week discussion (in person and by Zoom) of
Eleanor: A Spiritual Biography on Thursday mornings at 10am, beginning July 21.
If you are interested in joining us to read and discuss this book (a 2021 UMW
Reading Program selection) please see the sign-up sheet in the Lobby or email Peter.
Copies of the book will be available for $20, or you can download the book to your e-reader.