Buckles & Bows Square Dance Club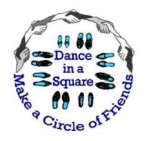 Learn to Square Dance with Buckles & Bows. The first FOUR lessons are FREE. During the month of September there will be 4 FREE INTRODUCTORY DANCES every
Wednesday evening from 7:00-9:00 pm, on Sept. 8th, 15th, 22nd & 29th, for you to come and try square dancing — Bring your family & friends with you, we think it will be something you will enjoy. We enjoy Square dancing, which is Fun, Fitness, and Friendship set to music.  You will not find another hobby like square dancing which is a great social equalizer, is reasonably priced, combines the best of both art and science, is relaxing, stimulating and challenging at the same time, and lets you meet new friends. Square dancing contributes to a healthier and independent lifestyle. More. . .