Psalms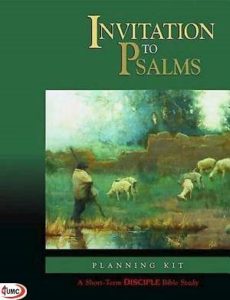 Thursdays, June 14-August 16, 10:30am-noon
SHORT-TERM DISCIPLE BIBLE STUDY ON THE PSALMS
This 10-session Disciple Bible Study on the Book of Psalms will be led by Pastor Peter, beginning June 14. The study will allow participants to make a deeper connection to the world of the Psalms. These well-known Scriptures can help you give voice to all aspects of our human experience – joy, faith, uncertainty, and sorrow.
The Bible will serve as the primary text in this study, but a Participant Guide will also be utilized. Preparation on the part of participants is expected before class: several Psalms will be read each week, as well as a segment of the Participant Guide. The Participant Guide is also used for note-taking and responding to reflection questions that follow each lesson.
After preparation during the week, participants will gather each Thursday from 10:30am until noon for small group discussion. Each week we will also view two video segments, which will present individual Psalm texts in a variety of ways, including dramatic reading, music, dance, and images, as well as offer insights into specific Psalms by biblical scholars in an informal, roundtable conversation format.
Participants for this Invitation to Psalms do not have to have an in-depth knowledge of the Bible to enjoy and benefit from participating.
If you are interested in attending this study, a sign-up sheet is available on the back table in the Sanctuary. The cost of the study is $16, which will pay for the Participation Guide. Please consider taking part in this exciting journey through the Psalms.